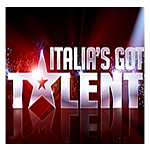 In 2012, the ColorSensation participated in the famous talent show Italy's Got Talent on Channel 5 on Saturday in the early evening. The success of their performance was confirmed with three YES by the three famous judges Gerry Scotti, Maria De Filippi and Rudy Zerbi .The program was presented by Belen Rodriguez and Simone Annicchiarico.
-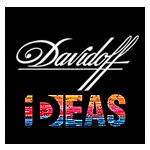 In 2012, Flavio and Fiorella took part in the colorful corporate event, convention Davidoff held in Milan on the occasion of the new packaging Ideas. The bodypainting inspired by the logo of the brand have been made on the local bartender and a model was painted live under the eyes of the public.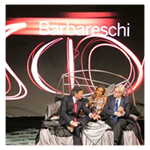 .
The team has been asked to represent the Body Art in the transmission of Barbareschi Sciock La7 in 2010, led by Luca Barbareschi, in the episode dedicated to censorship in art, in which the operative critic Vittorio Sgarbi. When you find a comment on the body of a model painted with the map of Italy, the video is transmitted to 'Striscia la Notizia'.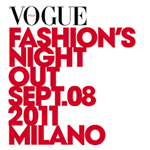 During the Vogue Fashion Night in Milan 2011, there was the live performance of Body Painting by Fiorella Scatena in the Daad Dantone boutique – Via della Spiga, the model Sabrina Cereseto was shown in the service dedicated to the event in TG Open Studio, one of Italy and was included in the official video of the evening, on the site VOGUE Italy.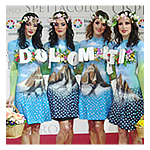 The prestigious International Tourism Exchange in Milan (BIT Fair 2010), at the stand of the region Veneto, to present the Dolomites as a new UNESCO World Heritage Site, the team was called to make a tribute to these wonderful Italian mountains.
The work was greatly appreciated by both the public and the press. It was seen at the TG1 same evening, on the site of Repubblica.it and in many national newspapers.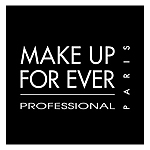 In 2011, the ColorSensation Team, selected by the President of the World Body Painting Association, Alex Barendregt, was the protagonist of the event for the opening of the boutique Make Up Forever Paris. Under the eyes of Dany Sanz, founder and creative director of the brand, and 400 French makeup artists for the first evening, and 100 VIP guests on the second night more exclusive, the team performed creations inspired by the themes 'Wild and chic' – as the 'last line of makeup made – and' Halloween '. Fiorella was presented as a specialist in 'Special Effects' Body Painting, Flavio specialist technical 'Airbrush', and Elena as an expert fluoride UV bodypainting.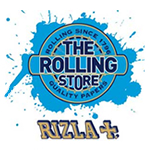 In 2010, the 'ColorSensation girls' were featured during the event Rizla Rolling Tour at the temporary shop at the Teatro Belli in Rome. The evening 'Rolling in the dark' was devoted entirely to fluorescent colors, visible only in the dark illuminated by the lights of Wood. Live on Radio M2O, to the rhythm of music, and the sound of the strokes, the two artists did shine in the night all present this original Party.